Mother's Day Gift Ideas
5/2/19
We've chosen some of our favorite pieces as suggestions for Mother's Day gifts. Express your gratitude with something stylish for Mom...just add some words of love and appreciation! Here's to the moms, the stepmoms, the not yet moms, the should be moms, the just like moms, and those who have lost their moms. Happy Mother's Day!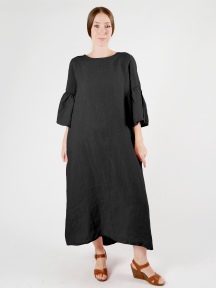 The
Bryn Walker Kahlo Dress (above left)
is a comfortable and stylish maxi dress that she could use for casual or dressy days. It's a Bryn Walker customer favorite this season! The
Bryn Walker Fran Shirt (above right)
is simple with the perfect amount of flare. Pair with wide-leg trousers or denim for a chic and easy vibe. The
Dupatta Designs Jacobean Scarf (above center)
is made of super-soft modal with vivid washes of color. Top either Bryn style with this scarf to brighten up your look!
The new
Live In Jumpsuit by Flax (above left)
is a
stylish and easy jumpsuit alone or layered under your favorite jacket or cardi. You will be surprised out how flattering it is once on. The
Grande Scarf by Flax
is light and airy for the season, covering arms as a wrap or accessorizing your outfit with soft summery pastel colors.
Floods by Flax (above right)
- they never go out of style and have been going strong for decades at HB! Flawlessly cut, incredibly comfortable and utilitarian chic, we cannot recommend this style enough.
Mycra Pac is known for lovely raincoats in ranges of silhouettes, fabrics, colors, and prints. We love this
Andi Print Duo-Tone Reversible Jacket
for the fresh oversized floral pattern. The
Orsa Bag by Elk
has soft leather straps, enough room to add all essentials, is easy to travel with and has a modern minimalist aesthetic. Give Mom beauty in a comfortable-to-hold handbag! The
Long Cross-Over Dress by Luna Luz
is yet another customer favorite. A lovely, effortless summer dress.

"Mama was my greatest teacher, a teacher of compassion, love, and fearlessness. If love is sweet as a flower, then my mother is that sweet flower of love. "
Stevie Wonder